University of Hawaii Manoa Wins 2020 Digital Marketing Competition
December 13, 2020 – The 2020 Digital Marketing Competition client ChangEd, and Purdue University Northwest are excited to announce the University of Hawaii Manoa as the 2020 Digital Marketing Competition winner. They were tasked with developing a digital marketing campaign to increase awareness and downloads of ChangEd, a student loan repayment app.
The five finalists discussed their marketing strategies on December 12th with ChangEd Co-founders Dan Stelmach and Nick Sky, Alyssa Gallegos – Premium Account Strategist at Microsoft, Kara Trivunovic – Managing Director of Messaging at Epsilon, and Minesh Parikh – CEO at Lipman Hearne.
"Congratulations to all of the teams. All of your presentations were great and we had a tough time deliberating during the judge's (meeting), but I'm looking forward to continuing to work with everyone."

Nick Sky, Co-founder of ChangEd
TOP THREE TEAMS
FIRST PLACE: Team E. Scott – University of Hawaii Manoa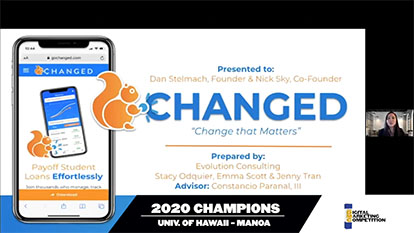 SECOND PLACE: Team Sukhlal – Johnson & Wales University
THIRD PLACE: Team Gangji – Northwestern University in Qatar
In addition, sponsors the Barbauld Agency, Digital Target Marketing, Stukent, and Digital Helium all provided specialty awards:
Best Research/Strategy – Barbauld Agency

Winner: Team Kim from the University of Massachusetts Amherst

Best Paid Strategy – Digital Target Marketing

Winner: Team McCabe from Susquehanna University

Best Owned Strategy – Stukent

Winner: Team E. Scott from University of Hawaii Manoa

Best Media/Evaluation – Digital Helium

Winner: Team Kim from University of Massachusetts Amherst
For further details on the DMC, visit: www.DigitalMarketingCompetition.com
For questions about the competition, please contact:
Matt Hanson
2200 169th St, Anderson 382
Hammond, IN 46323
Phone: 213-302-6075
Email: WinBig[at]DigitalMarketingCompetition.com